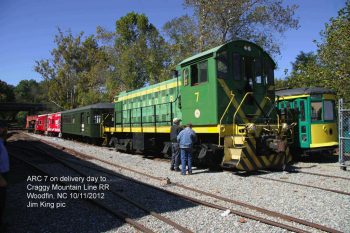 On Thursday, October 11, 2012, we took delivery of our first "road diesel", former Alexander RR Co. No. 7. The switcher was built in November, 1950 by the American Locomotive Company (ALCO) of Schenectady, NY for the Pennsylvania RR where it became their number 8873. It operated on that road, its successor (Penn Central) and PC's successor (Conrail) until retirement in 1979 as the last example of an "S-3" (Alco's designation) on Conrail's system.
In 1979, the Alexander RR Co. (ARC), an 18-mile long line operating between Statesville and Taylorsville, North Carolina, purchased the engine, had it rebuilt and shipped to their line where it was renumbered "7". It faithfully pulled freight cars on the line, along with sister No. 6, until 2010 when it was retired in serviceable "standby" condition after being replaced by newer power.
A close relationship between Craggy Mountain Line and the Alexander Chapter of the National Railway Historical Society (located in Newton, NC), has developed over the years between members from each group. That relationship first led to a long-term loan of ET&WNC (Tweetsie) Motorcar No. 2, which will begin hauling passengers on October 20th.
As our relationship grew, so did our mutual interests, which led to the Chapter's offer to broker a sale/donation deal between the ARC, CML and the Chapter, the latter two being non-profit organizations. The result: CML now has a vintage, very rare, example of a 1950s Alco diesel switcher with strong ties to North Carolina.
Our goal is to put the engine in service by Summer 2013 hauling passengers in our caboose train over 3.5 miles of track between Woodfin and the end of the line near Silverline Plastics along the French Broad River.
Watch this web page for updates as we move toward that goal. In the meantime, enjoy the photo of No. 7 taken less than a half-hour after its arrival in our Woodfin yard.
As the end of 2012 approaches, it's time to consider tax-deductible donations to non-profit organizations, like the Craggy Mountain Line.  We are an all-volunteer group where 100% of donations go toward equipment restoration.