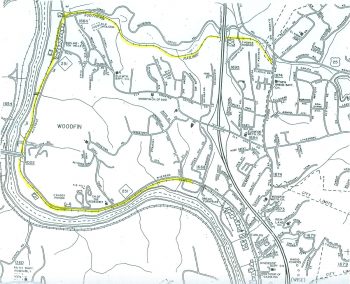 Craggy Mountain Line, Inc. is a non-profit organization which was formed in 2001 in order to acquire the last three miles of the Craggy Mountain line, an historic section of railroad located in Buncombe County, North Carolina.
Craggy Mountain Line, Inc. operates approximately 3.45 miles of rail line known as the Asheville to Craggy Branch, which is part of the former Southern Railroad located in Woodfin Township, Buncombe County, NC.
The line will be preserved in an operable state and open to the public. Historic railroad equipment has been acquired and is currently being restored to its original condition for display on the line.
Since the beginning we have been diligently working to restore our equipment to operating condition, including track rehabilitation.
Future Plans for the Line include:
1. Developing a museum which will be open to the public. The museum will display railroad memorabilia and information about the history of the line and its significance to the development of the area.
2. Acquiring and restoring railroad cars, engines, and equipment to display for public exhibition.
3. Allowing community non profit organizations providing assistance to use boxcars as storage for surplus foods, clothing, and other goods accumulated for distribution.
4. Offer a train ride to Riverside Park and recreation center alongside railroad right-of-way for passengers.
5. Form a Railcar Club open to individuals interested in trolleys.
6. Form a model Railroad Club for individuals interested in model railroading.
7. Establish an operating trolley and inter-urban cars along the line.
8. Have special events and seasonal trains year-round.
"The Craggy" relies on volunteers to build, and donations to fund, all of these projects. Your time and donations are greatly appreciated.